How could anyone deny themselves a little treat once in awhile. That's exactly what my bestie and I DIDN'T do when we sauntered over to a
Tutti Frutti
outlet for some yummy frozen yoghurt. Mind you, frozen yoghurt is said to be healthier and more nutritious compared to cream-based icey treats. 
We came here for dessert before heading off for a much deserved massage. So, here's what we tried!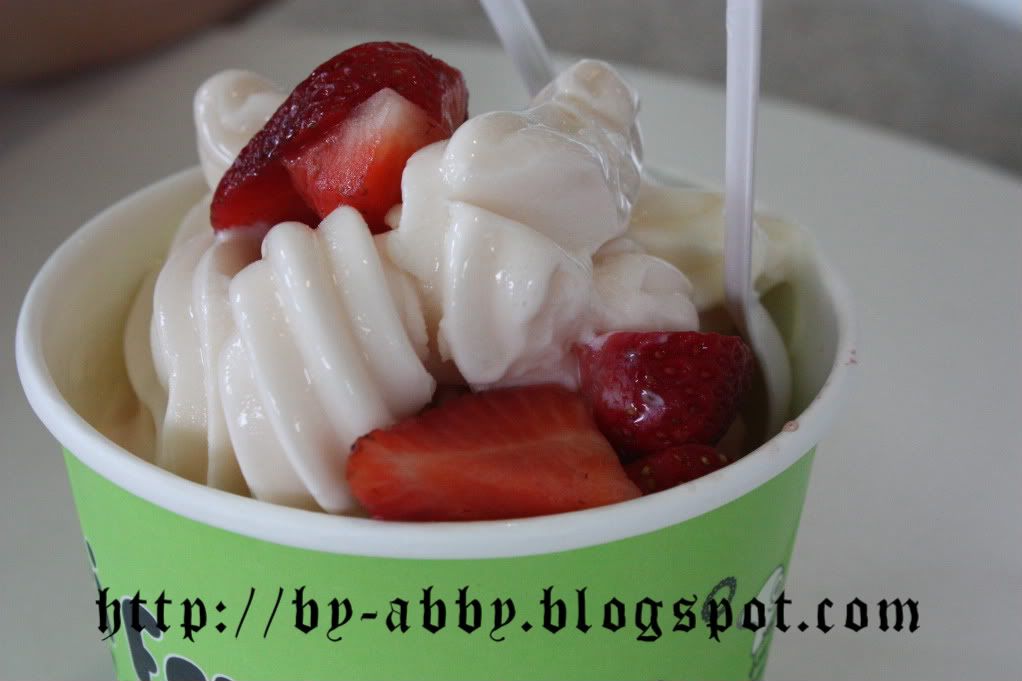 Strawberry Banana
AND
Passionfruit
This one is lovely. The strawberry banana has a great flavour. Not too sweet at all! You get a hint of eat fruit without either being too overpowering. As for the passionfruit, we were wary of it being too sour which is what you usually get fruit the actual fruit itself. But no, this wasn't so at all! It was very pleasant. A tad tangy, but another keeper in my books! Unfortunately both flavours are pretty similar in colour so you can't see much of a difference from the picture. I believe the one at the bottom is the passionfruit.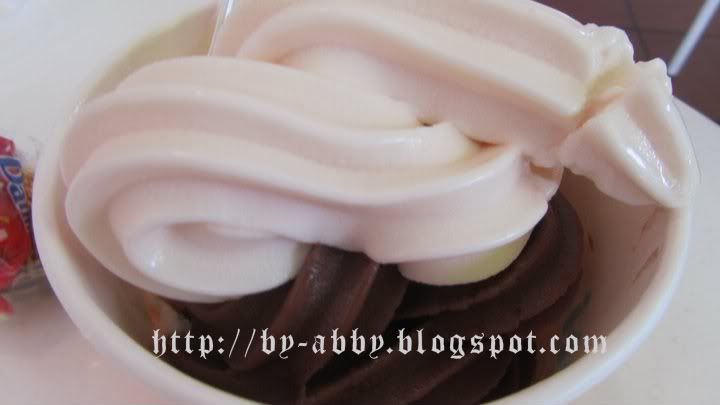 Strawberry Banana
AND
Chocolate
I'll only comment on the chocolate. This one was, chocolatey in a word. It's a very common chocolate flavour so I'd skip it in favour of the other better fruity flavours.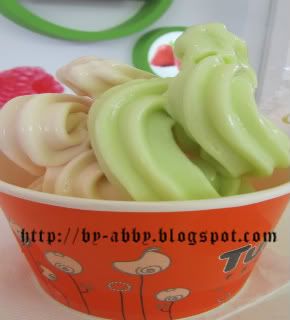 Strawberry Banana AND Kiwi
Ah the kiwi, another fruit I thought was going to be sour. I am afraid, read AFRAID of green kiwis in general. Although the golden ones are really sweet and are slowly dispelling my fears of the fruit. This one, just like the passionfruit, is just nice. It's sweeter than the normal fruit, thank goodness! But at the same time a little tangy due to the yoghurt.
All in all I prefer the fruity flavours. I have yet to try all the flavours as different outlets have different flavours, and usually less than 10 offerings. The brand is expanding their outlet reach as I type this so who knows what new flavour I'll get to try next! 
Tutti Frutti
offers flavoured frozen yoghurts and several topping choices. Just pile on whatever you want and get it weighed. Finally a delicious treat that's healthy and low in fat and sugar!
Tutti Frutti
costs
RM 5.30 per 100g
. Outlets are found in most major malls. Or will be soon!
Disclosure: I was not compensated for this review financially or otherwise. Everything mentioned are my own thoughts based on my experience.