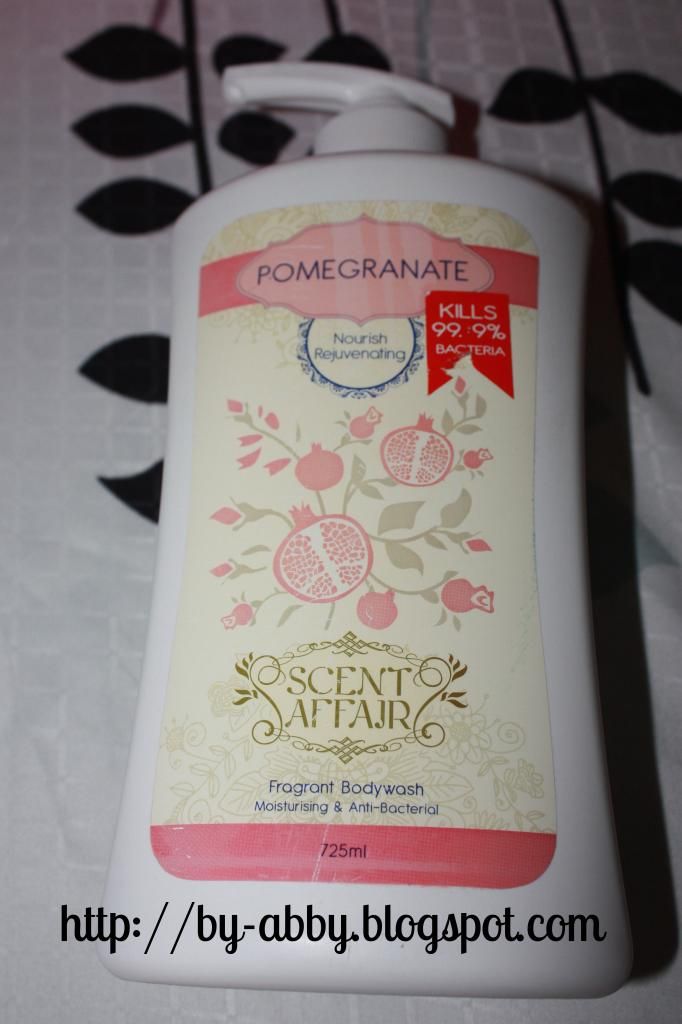 If you can't make out the red sticker on the bottle, it says that this bodywash kills 99.9% of bacteria. Always a welcomed addition to a bodywash if you ask me.
Product Highlights:
• Anti-bacterial protection
• Gentle on skin
• Nourishes & rejuvenates skin 
• Moisturizing with natural aloe vera 
• Contains natural extracts of pomegranate
• Leaves skin smelling great
The liquid is quite thick and is light pink in colour, being pomegranate scented. You can't really see in the picture due to the colour of my palm but it's actually pretty pearlescent, perfect for the ladies. I must say that I did not really catch the pomegranate scent but at the same time, I don't remember pomegranates having a very deep scent anyway. It smelt a little soapy, which I like, as well as some subtle undertones. The scent is a lot stronger on application though and lingers on after your bath/shower. Not too strong, but just nice and it is not drying on the skin.
The Scent Affair Fragrant Bodywash in Pomegranate (as well as other scents) comes in 725ml at RM 22.60, 275ml at RM 7.80, as well as the refill pack of 500ml at RM 8.90
HiShop is now having a 34% discount for the 725ml at just RM14.80!
Not only that, but if you:
Buy one 725ml bottle, you a 275ml bottle FREE
Buy two 725ml bottles, you get a 725ml bottle FREE
Disclosure: I was given the product above as part of the Beauty Ambassador Programme but was not compensated financially or otherwise. Everything mentioned are my own thoughts based on my experience.